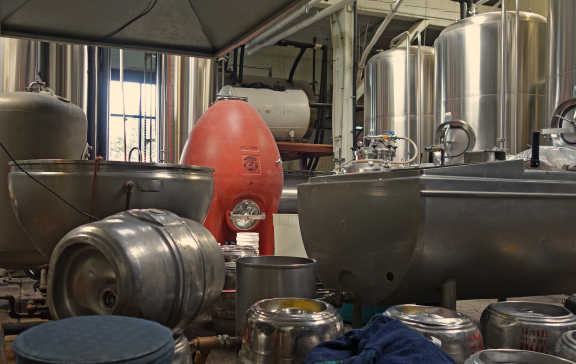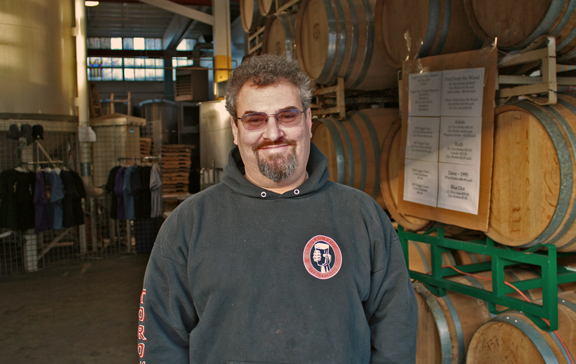 Our Story
One Day Back in '93
Hair of the Dog Brewery Company and Tasting Room was created to provide beer drinkers with new and unusual beer styles. Creativity and originality have been cornerstones of the company's philosophy since the beginning. Over the years we have developed a reputation for strong and barrel-aged ales, dense and dank IPAs and historic lagers. The brewery is 100% family-owned and operated. We are proud members of the Brewers Association and the Oregon Brewers Guild. We produce about 600 barrels of beer a year in our four-barrel (120 gallon) brewhouse.
We bottle and can some of our beers, but most of the beer we make is sold on draft in our tasting room and a few select accounts in Oregon and elsewhere. Most of our beers have four letter names, and have been named after people I have known or ideas I am passionate about. Giving beers their own name helps convey the idea that my beers are Individuals, unique, just like you and me.
We have been pioneers in a number of brewing techniques and practices that have helped make us unique. We are proud to be one of the first breweries in America to specialize in the production of high alcohol bottle conditioned ales, as well as experimenting with the barrel aging process since 1994. Currently the brewery has 160 oak barrels used to age beers from 6 months to 8 years. We use new oak, as well as previously filled spirit and wine barrels for both aging and as a way to introduce fruit into the aging process. Cherry Adam rests for 18 months in bourbon barrels with local cherries and we have also used peaches, currants, blueberries and strawberries. We are the first brewer in the country to use a concrete fermenter. These beers are known as "from the stone" and are smoother and rounder than the same beer fermented in stainless steel.
Even though we're known around the world, Hair of the Dog is Portland to its core. All the beer is made on premises by three brewers; Quinton Bradley, Isaac Sprints and Alan Sprints. We are also dedicated to buying local products for both the brewery and the restaurant in an effort to keep as much money as possible in our local community, as well as to minimize our impact on the environment.
We work directly with farmers and are happy to say that 99% of all the ingredients are produced within a 350-mile radius of the brewery. We use Pilsner malt from Great Western Malting, our water runs pure from the Cascade mountain range, and hops are grown in Oregon and Washington. Bottles are made here in Portland and our labels are printed by Rose City Label. Since we opened all the graphic design has been produced by The Felt Hat, also here in Portland, featuring Roswell Barker, the iconic bulldog mascot of Hair of the Dog. The original brewery equipment was recycled from other industries and is still in use today. After brewing, hops and malt are used for animal feed and picked up by a local farmer.



Our Founder
From Alan
I was born and raised in southern California and moved to Portland in the late '80s to attend culinary school. I had no intention of staying in town after school but I fell in love with the city and have raised a family of happy Oregonians. 1988 was the first year of the Oregon Brewers Festival, a small gathering (by today's standards) of unique small brewers, planting the seed of an idea that I could make my own beer. The event was pivotal for me, starting my interest in brewing and connecting me with the Oregon Brewcrew, one of the oldest homebrew clubs in the country. Homebrewing was a great way for me to explore the world of beer and offered freedom to create beers the way I imagined them. As president of the club for three years, I worked with many of the country's brewing pioneers, leading me to become a professional brewer in 1991. Working as a brewer for someone else, I missed the creativity I enjoyed as a homebrewer, leading me to start Hair of the Dog in 1993. The biggest influence from my homebrew days was visionary beer historian Fred Eckhardt. Based in Portland, Fred wrote about beer and traveled the world giving lectures about the enjoyment beer provides. He wrote books on beer styles and inspired me to make many beers, most popular are my first beer "Adam" and the iconic "Fred." We lost Fred in 2015 but he continues to be a source of strength and I continually try to be more like Fred.
My father knew what he wanted to do when he was in high school but when I was young, I really never know what I wanted to do when I grew up. After working in the music industry and in aerospace, I found the culinary world. Food had always been a key part of family gatherings and I enjoyed cooking for others so being able to create good food to showcase our beers has been a real treat. Brewing and cooking have a lot in common, and after a couple years of working in different types of restaurants I made the switch from cook to brewer. When I started Hair of the Dog back in 1993, I joined a motivated group of young entrepreneurs to create the small brewing revolution. Back then, there were less than 500 breweries in this country, now there are almost 8000. When I was young I was able to taste beers from all over the world. The variety of beer styles and rich history of these brewers quickly made them my favorites, and inspired many trips to Europe using Michael Jackson's books as a guide. Working with brewers from other countries has been very rewarding and educational.
Alan Sprints